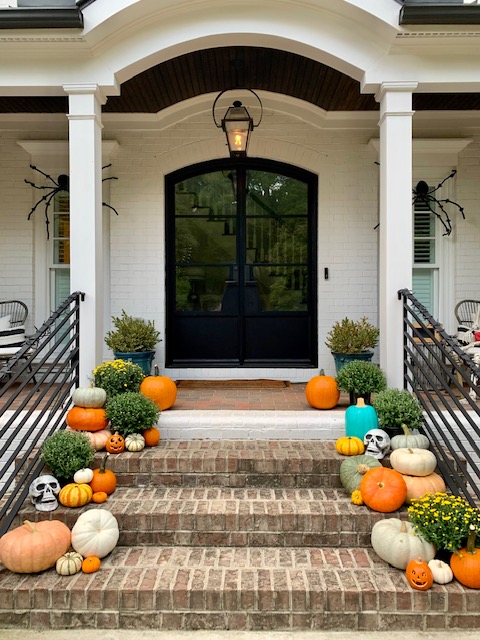 Halloween is a fun time for kids of all ages. It's an opportunity to dress up in costumes, transform your home and yard with spooky decorations, and greet trick or treaters with tasty treats. But, for the 1 in 13 children with food allergies—and many more impacted by food sensitivities and other pediatric allergies—this annual event can pose serious health risks.
The Teal Pumpkin Project was started by Food Allergy Research and Education (FARE) to combat these risks. All you have to do is display a Teal Pumpkin sign or have a teal pumpkin (available at local retailers like Walmart or Target) on your front porch or steps to let trick or treaters know that in addition to candy, your home offers non-food treats that are safe for everyone. Carolina Asthma & Allergy Center is proud to be a continued partner for FARE with this project, and provides flyers to our own clients to spread the word about the project. These flyers are available for free at our office locations or downloadable as a printable PDF so you can show the children of your neighborhood that you're committed to an allergy-free Halloween, just like we are.
The History of the Teal Pumpkin Project
The Teal Pumpkin Project was started by the Food Allergy Community of East Tennessee. FARE was inspired by their local community's efforts and spread the project across the county, creating a safer environment for all children with food allergies. The project aims to spread messages of awareness, inclusion, and community – and, of course, safety.
Halloween can be a stressful time for parents who have to check ingredient labels and be careful about what they allow their children to eat. Especially for younger children, this can be confusing and upsetting, as they may not understand why certain candies are being taken away from them. Non-food treats, as encouraged by the Teal Pumpkin project, ensures that all children can come awya with positive mementos of their Halloween experience.
CAAC's Involvement in the Initiative
Carolina Asthma & Allergy has been a proud supporter of the Teal Pumpkin Project in the greater Charlotte region. With our established network of families dealing with allergies, we're able to spread the word amongst the communities that need Teal Pumpkins most, and encourage as many households as possible to participate.
Every year, we hand out free flyers that families can use as symbols of their contribution to the project, and often have additional prizes or giveaways to really get the community involved and engaged in the Teal Pumpkin project. It can only be as effective as the amount of homes that participate, so we do out part to get those numbers up.
Making a Teal Pumpkin Friendly Halloween
"Teal Pumpkin Friendly" simply means that you have non-food treats available. What that includes is up to you, provided the treats remain separate and uncontaminated from possible allergens to protect everyone.
Participating is simple. Using a flyer or teal pumpkin in front of your home, signal to trick-or-treaters that you're part of the project. Then all you have to do is hand out something as little as glow sticks or small toys to those who come by! We always encourage participants to spread the word and get others in their Charlotte neighborhood involved in the project as well.
Some suggestions for non-food treats are:
Bracelets or necklaces
Erasers, pencil toppers, or markers
Mini Slinkies
Whistles or kazoos
Bouncy balls
Silly Staws
Spinning tops
Rubber ducks or other novelty toys
Still, there are some safety measures to keep in mind, even with non-food treats. Remember:
If you're handing out candy too, keep it in a separate bowl
Washing your hands before passing out toys is a good idea
Some non-food treats may still contain allergens, like latex or even wheat in clay
As long as you take the necessary precautions, you can be part of a successful Teal Pumpkin Halloween!
The Giveaway
This year, to drum up excitement about the Teal Pumpkin Project, Carolina Asthma & Allergy will be hosting a Teal Pumpkin Giveaway!
Anyone can win one of these 3 Teal Pumpkins filled with prizes as well as a $25 Amazon gift card – and bonus, you'll have a free Teal Pumpkin to use as a signal for your home on Halloween. Entering is simple; all you have to do is sign up on the giveaway page with your information here. There are no exclusions or requirements, and you do not have to be an existing patient of Carolina Asthma & Allergy Center to enter. Names will be drawn on 10/25.
Closing
We hope that all of you reading this will take action this Halloween and join the Teal Pumpkin Project. With just a bowl of small non-food treats, you can help make this holiday one for everyone to enjoy. And remember to enter Carolina Asthma & Allergy Center's Teal Pumpkin Giveaway for the chance to win exciting prizes and a free Teal Pumpkin for your front porch!
Can I pass out candy and non-food treats?
Of course! We simply ask that you keep them separate to ensure proper safety.
I can't find a teal pumpkin at my local store, what do I do?
No problem. You can print a free sign available on our website or ask for one at any Carolina Asthma & Allergy Center, and then place the sign in your front windows.
What's the best way to get others involved in the Teal Pumpkin Project?
Passing out flyers around your neighborhood is one easy way! You could also host an event like a teal pumpkin painting party and invite friends and neighbors. If your neighborhood has a community Facebook group or Nextdoor page, you can easily post about it on there. Sharing information on social media or with your local library, doctor's office, and schools will spread the word to those outside of your own neighborhood.