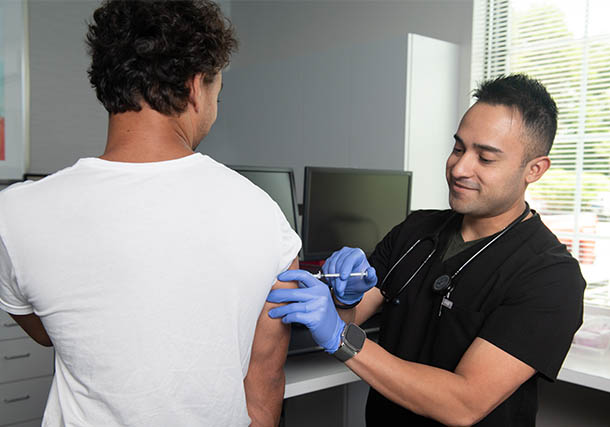 Allergy Shots in Charlotte
If you're seeking a long-term solution to manage your allergies, allergy shots, (also known as subcutaneous immunotherapy, or SCIT), could be the answer you've been looking for. At Carolina Asthma and Allergy Center, we specialize in comprehensive evaluation and treatment for allergies, including the administration of allergy shots.
Allergy immunotherapy works by gradually desensitizing your immune system to specific allergens that trigger allergic reactions. Through a series of carefully administered injections, small amounts of the allergen are introduced into your body, helping your immune system build up a tolerance over time.
If you're interested in exploring immunotherapy as a treatment option or considering alternative approaches to managing your allergy symptoms, we encourage you to consult with our experienced allergists. Our dedicated team will assess your allergies, evaluate your symptoms, and provide a thorough examination to determine if immunotherapy is a suitable treatment option for you.
Take control of your allergies with allergy shots and experience long-term relief and an improved quality of life. Contact us today to schedule a consultation and discover how immunotherapy can help you effectively manage your allergies. Our team is here to guide you towards a healthier and more comfortable future.
How to Request an Appointment
Booking an appointment is hassle-free. You can simply reach out to our office by phone or complete the online appointment request form on our website. Our friendly and accommodating staff will collaborate with you to find a date and time that suits your schedule perfectly.
During your scheduled appointment, our skilled allergists will conduct a comprehensive evaluation of your medical history and perform a thorough physical examination. To accurately diagnose the presence of any allergies, we will customize a range of tests to address your specific needs.
Based on the results of your evaluation and tests, our experienced team will create a personalized treatment plan designed to effectively manage your allergy symptoms and prevent future allergic reactions. As part of this plan, our experts may recommend allergy shots, also known as immunotherapy. These shots work by gradually desensitizing your immune system to specific allergens, providing long-term relief from your allergies.
Take the important step toward understanding and effectively managing your allergies by contacting us today to request an appointment. Our dedicated team is committed to supporting you on your journey to a healthier and more comfortable life.
How Do Allergy Shots Work?
Allergy shots are also known as subcutaneous immunotherapy (SCIT), which refers to immunotherapy that's administered through an injection beneath the skin. Each allergy shot contains various allergens that the individual is known to be allergic to, and treatment begins with very small doses of those allergens. 
As the allergy shot treatment progresses, each shot gives the body a small amount of exposure to the allergen in gradually increasing dosages. During the process, immunotherapy slowly retrains your immune system to tolerate the known allergens so that your allergic reactions become much less severe. This doesn't cure allergies, but it offers significant relief from symptoms. The goal of the treatment is to slowly adjust how the immune system reacts to those allergens, which in turn lessens allergy symptom severity.
Successful immunotherapy is dependent upon an accurate determination of a patient's entire allergen sensitivity as well as the correct formulation, handling, and mixing of the patient's specific allergen extract.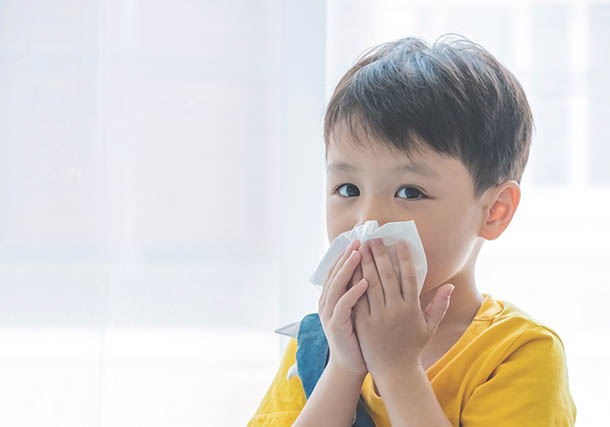 Allergy Shot Treatment: What to Expect
When considering allergy shot treatment, also known as Subcutaneous Immunotherapy (SCIT), it's important to understand the process and what to expect. Here is a step-by-step guide to help you navigate your allergy shot journey:
Consultation and Allergy Testing:
The first step is to schedule a consultation with your allergist. During this appointment, your allergist will discuss the source of your allergies and may conduct allergy testing using skin or blood samples to identify the specific allergens causing your symptoms. This information will guide the formulation of your personalized allergen extracts.
Treatment Plan and Administration:
If you decide to proceed with allergy shot treatment, your allergist will develop a tailored treatment plan for you. It's important to note that allergy shots should never be self-administered at home. Instead, your allergist or a trained medical professional will administer the shots in a controlled office setting. The shots are typically given on the back of your upper arms and consist of a combination of allergens specific to your allergies.
The initial phase of allergy shot treatment is known as the build-up phase. During this period, you will receive shots frequently, typically once or twice a week. The allergen dosage in each injection gradually increases over time. Your allergist will determine the duration of the build-up phase based on factors such as your response to the treatment and the prescribed allergen dosage. It's during this phase that you may start experiencing a gradual relief of your allergy symptoms.
Once an effective dose is reached, you will transition to the maintenance phase. In this phase, the frequency of your allergy shots will decrease. The interval between shots will be determined by your allergist and may vary among individuals. The maintenance phase is when you can expect a more significant improvement in your allergy symptoms as your immune system becomes less reactive to the allergens.
Long-Term Treatment and Benefits:
Allergy shot treatment is a long-term commitment aimed at providing lasting relief from your allergies. The duration of the treatment varies from person to person, with the entire build-up phase typically lasting around three to six months. However, the overall treatment timeline can extend to several years, depending on your allergist's recommendations. It's important to follow your allergist's instructions and attend regular follow-up appointments to track your progress.
By undergoing allergy shot treatment, you can experience a reduction in the frequency and severity of your allergy symptoms, leading to an improved quality of life. If you're ready to take control of your allergies, schedule a consultation with our experienced allergists today. They will guide you through the process, answer any questions you may have, and provide personalized care to help you manage your allergies effectively.
Types of Allergies That Can be Treated by Allergy Immunotherapy
Allergy immunotherapy, also known as allergy shots or subcutaneous immunotherapy (SCIT), is an effective treatment option for various allergies. It can provide relief and long-term management for the following types of allergies:
Environmental Allergies: Allergies triggered by substances present in the environment, such as pollen from trees, grasses, or weeds, as well as mold spores and dust mites, can be effectively treated with allergy immunotherapy. These types of allergies often cause symptoms like sneezing, nasal congestion, itchy or watery eyes, and itching of the skin.
Pet Allergies: Allergic reactions to pet dander, including cats, dogs, and other animals, can be treated with allergy immunotherapy. People with pet allergies may experience symptoms such as sneezing, coughing, wheezing, or itchy skin when exposed to pet allergens.
Insect Allergies: Allergy immunotherapy can be used to manage allergies triggered by insect venom, such as bee stings or wasp stings. Insect allergies can cause severe reactions in some individuals, including swelling, hives, difficulty breathing, or even anaphylaxis.
Allergic Asthma: Allergy immunotherapy can also be beneficial for individuals with allergic asthma, a condition where asthma symptoms are triggered by specific allergens. By targeting and desensitizing the underlying allergens responsible for asthma attacks, immunotherapy can help reduce asthma symptoms and improve overall respiratory health.
Allergic Rhinitis: Also known as hay fever, allergic rhinitis is characterized by symptoms like sneezing, nasal congestion, itching, and a runny nose due to exposure to allergens such as pollen, dust mites, or mold spores. Allergy immunotherapy can provide significant relief and long-term management for allergic rhinitis.
It's important to note that the specific allergens for immunotherapy treatment are determined through allergy testing conducted by your allergist. They will customize the treatment plan based on your allergy profile and individual needs. If you suspect you have any of these allergies, consult with an allergist to determine if allergy immunotherapy is a suitable option for you.
Carolina Asthma & Allergy Center is the area's largest asthma and allergy practice that's made up entirely of board-certified physicians, certified in Allergy & Immunology. If you would like to learn more about how allergy shots can help relieve your allergy symptoms, please make an appointment with one of our board-certified allergists to see if you are a good candidate. This is your first step to leading a full life without worrying about your allergies!
Is allergy immunotherapy covered by insurance?
In most cases, health insurance will cover allergy shot treatment because it is an FDA-approved treatment. However, insurance coverage will depend on your provider and your plan. You may have a copay or deductible you need to meet first, in which case some or all expenses may be out-of-pocket. Most individuals who undergo allergy shot treatment pay little to no money when the treatment is covered by insurance. For those who do not have coverage, SCIT therapy prices vary.
How effective is immunotherapy for allergies?
The efficacy of immunotherapy varies, depending on the person, the severity of allergies, and how long the treatments are administered to the patient. In most cases, allergy shots are very effective. They can greatly decrease the sensitivity to allergens, reducing or eliminating the allergic symptoms. In addition, allergy shots can help prevent you from developing new allergies. They may even prevent asthma in children.
To maximize efficacy, we recommend that individuals who begin allergy shots stick with the treatment for at least a year, even if the results are minimal at first. It takes time for the immune system to get used to the allergens and to change its reaction. After a year, if you don't notice an improvement, then you should talk to your allergist. They can assess why the allergy shots aren't working and recommend more time or another form of treatment.
What are the side effects of allergy shots?
Risks and side effects of allergy shots are rare. A typical reaction may be some swelling or redness that appears at the injection site. Serious reactions are very rare, but include anaphylaxis. For that reason, most physicians ask patients to remain in the office for about 30 minutes after the shot to monitor and ensure that no serious reactions occur.
It is important to consult with your allergist to see if immunotherapy is right for you.