Physicians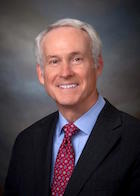 John T. Klimas, MD
Patients Treated:
Adults and adolescents, children by referral
Locations:
University, Concord, SouthPark
Board Certifications:
American Board of Allergy and Immunology, 1979, Re-certified 1999, American Board of Pediatrics, 1978
After completing his internship and residency at Johns Hopkins Hospital in Baltimore, Dr. Klimas headed south to Duke University, where he completed a fellowship in Allergy/Immunology. He joined the Charlotte Allergy Clinic, the forerunner of CAAC in 1978. He serves as a clinical adjunct professor at the University of North Carolina School of Medicine and has been the principal investigator in more than 70 clinical studies in allergy and asthma. Dr. Klimas has also served as president of the following professional organizations: the Mecklenburg County Medical Society; the North Carolina Allergy Society; and the Southeastern Asthma and Allergy Society. He has been named a Charlotte Top Doc in allergy (2003-2015), and he was named one of the Best Doctors in America in 2014 by the Charlotte Business Journal.
After 12 years of volunteering at the Shelter Medical Clinic (for the homeless), Dr. Klimas, under the auspices of the Mecklenburg County Medical Society, founded Physicians Reach Out (PRO), a volunteer corps of medical professionals, who provide medical care for the poor and uninsured of Mecklenburg County. To date, more than 11,000 patients have been treated and over $100 million has been donated in professional and hospital services. Dr. Klimas has served as chair of parish councils at both St. Gabriel and at St. Peter's Catholic churches and as a member of the Princeton and Stanford University parent boards. Most recently, Dr. Klimas delivered a Food Allergy presentation at Levine Children's Hospital.
In his free time, he practices his piano skills. His wife has suggested that his next career might involve playing piano next to the shoe department in Nordstrom's. Dr. Klimas also enjoys gardening, golf, travel, and shamelessly spoiling his four adorable grandchildren!
Charlotte Business Journal Top Doctors in Pediatric Allergy and Immunology (2014, 2015, 2016)
Named one of the "Best Doctors in America," The Charlotte Business Journal (2014)
Named as one of Business North Carolina Magazine's "Best Doctors" (2013)
Named one of the "Best Doctors in America," The Charlotte Business Journal (2013)
Recognized as one of Charlotte Magazine's "Top Docs" in Allergy/Immunology, 2003-2015.
Recognized as one of the Top Doctors in America, US News and World Report (2010-2012)
Named "One of the Most Influential Doctors in America," USA Today (2010)
Fellowships:

Duke University Medical Center
Residency:

The Johns Hopkins Hospital
Internship:

The Johns Hopkins Hospital
Medical School:

SUNY Buffalo, School of Medicine
College:

Rutgers University , B.A., Magna Cum Laude, Phi Beta Kappa