Physicians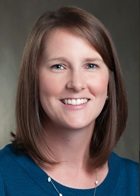 Emily W. Langley, MD
Patients Treated:
Children and adults
Locations:
University, Lake Norman, SouthPark
Board Certifications:
American Board of Pediatrics, 2011, American Board of Allergy and Immunology, 2013
Dr. Langley joined Carolina Asthma and Allergy Center in September 2013. She is a native Charlottean and graduate of Myers Park High School, where she completed the International Baccalaureate Program and was active in clubs and sports.  She then headed to Winston-Salem, where she graduated magna cum laude from Wake Forest University with a BS in biology.  She earned her status as a "Double Deacon" when she stayed on for medical school at Wake Forest School of Medicine.  She completed Pediatrics Residency at Monroe Carell Jr. Children's Hospital at Vanderbilt University, followed by Allergy/Immunology Fellowship, also in Nashville, Tennessee.
Dr. Langley was drawn to the field of allergy because she is an allergy sufferer herself.  She was also intrigued by the complex immune system since her first undergraduate immunology class and has special interest in immunodeficiency.
Having a child with food and environmental allergies as well as an allergic condition of the esophagus, called eosinophilic esophagitis, she is passionate about providing families with the education and tools they need to keep their children safe and healthy. She knows personally what it is like to live with a child with a life-threatening food allergy and shares the concerns of many of her patients and their families.
During fellowship training, Dr. Langley studied exhaled nitric oxide in children with asthma, and she has presented her work locally and nationally.  Her research was recently published in Journal of Allergy and Clinical Immunology: In Practice (see link).
Outside of work, she enjoys running, yoga, hiking, skiing, traveling, and spending time with her husband, Mercer, two young girls, Molly and Anna, and her two dogs, Lucy and Riley.
<a title="Publications by Emily W. Langley, M.D." href="http://www.carolinaasthma.com/publications-emily-w-langley-m-d-2/">Click here</a> to read Dr. Langley's recent published articles.
Fellowships:

Vanderbilt University Medical Center
Residency:

Pediatrics, Monroe Carell Jr. Children's Hospital at Vanderbilt University
Internship:

Pediatrics, Monroe Carell Jr. Children's Hospital at Vanderbilt University
Medical School:

Wake Forest University School of Medicine
College:

Wake Forest University